The vehicle battery is the starting system for your entire engine. Without it, your vehicle would be missing the spark of power that starts it all. That's why it's absolutely vital that you keep your battery in tip top shape and that you get it checked often. Failing to get even one check-up at your local Hyundai service center in Cerritos can get you stranded outside of your favorite restaurant.
Battery Repair Services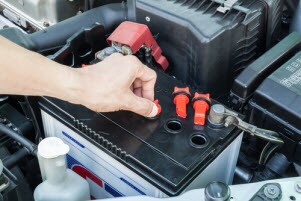 While the most important battery service you'll likely get is the battery replacement, there are several other services your vehicle might benefit from over your time as its owner. Here are a few that are usually recommended by the vehicle manufacturer:      
Battery Inspection
          
Battery Power Output Test
          
Battery Recycling 
In addition to these services that are specifically for your car battery, there are a few additional services you may need if the car battery isn't the problem. For example, there could be an issue with the power cables, the alternator or the starter engine. If there's a problem with any of these other systems, our highly trained service technicians can handle the problem in no time.
Battery Repair Service You Can Trust
At Norm Reeves Hyundai Superstore at Cerritos Auto Square, we are committed to ensuring that when you leave, your vehicle is running in the best possible condition. Our team is trained to diagnose and repair every issue your vehicle has. And our friendly service professionals are happy to answer any and all questions you might have about your vehicle's service and maintenance requirements when you come in.
Learn More About Battery Repair Services
Our team is committed to getting you the information you need to keep your vehicle running smooth. So check out the helpful pages below to get answers to all of your most pressing questions. Want to know when it's time to get a battery repair? Check out the page below. Want to know how often that service needs to be done? We've got an answer for that too. 
Is there a question we haven't answered here? Feel free to reach out to our incredible service team by phone or in the Live Chat below. Then use our online tool to schedule a battery service appointment.