While we'd all love to believe that climate change is a hoax, the fact remains that climates around the world are changing. And while we can't do anything to completely halt this natural process, there are things we can do to slow it down.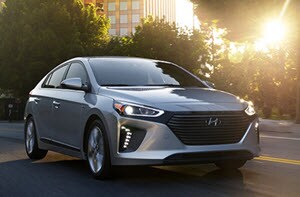 That's why auto makers like Hyundai are creating innovative and intelligent technologies that are environmentally friendlier than traditional cars. The 2017 Ioniq Hybrid is one of these vehicles, and there are a few things you should know about it.
It Comes with a Lifetime Hybrid/Electric Battery Warranty
Owners of other hybrid vehicles will tell you that replacing a battery is a pretty expensive endeavor. But the high-capacity lithium-ion polymer battery pack in the 2017 Hyundai Ioniq Hybrid is covered by an exclusive Lifetime Warranty* from Hyundai. The warranty ensures that if the battery fails at any time for the original owner, Hyundai will cover the recycling costs and completely replace the battery for free.
On top of that, the vehicle comes with a 10-Year, 100,000-Mile Powertrain Limited Warranty that includes 24/7 roadside assistance for the first five years of ownership. With towing and trip interruption coverage and assistance for a dead battery or flat tire, you'll have help whether you're driving around Cerritos, Long Beach, and Anaheim, or you're on a grand adventure.
The Vehicle Is Loaded with State-of-the-Art Technology
Many hybrid vehicles have a lot of cool tech under the hood, but then it pretty much stops there. But that isn't the case with the Hyundai Ioniq Hybrid. The vehicle features a super cool parallel hybrid drivetrain with a 104-horsepower gasoline powered engine, a lithium-ion polymer battery, and a 32kW electric motor. But it also has a super modern interior design and advanced infotainment technology.
In fact, the vehicle features Apple CarPlay™ and Android Auto™, as well as wireless charging, so you can use your smartphone without actually physically handling it while you're driving. This links into the vehicle's 7-inch display audio system with a high-resolution touchscreen that features an AM/FM audio system with SiriusXM® Satellite Radio, HD Radio™, and MP3 capability.
The vehicle's available upgraded system offers a larger 8-inch display, added navigation capabilities, and an audio system with a subwoofer. You can also tack on Clari-Fi™ Music Restoration Technology if you really want to get a concert-quality sound.
2017 Hyundai Ioniq Hybrid Features Blue Link®
Similar to the OnStar system in Chevrolet vehicles, the 2017 Hyundai Ioniq Hybrid features Blue Link®, a telematics and assistance system that keeps you connected with the Blue Link® team at all times. The vehicle is available with the entire system that'll give you the Connected Car & Remote package with a 3-year enrollment, as well as the Guidance package. If you're ever lost, or just need a little assistance, the Blue Link® team will be there to assist you.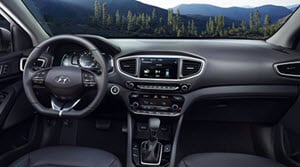 Learn More at Norm Reeves Hyundai Superstore Cerritos
The 2017 Hyundai Ioniq Hybrid is truly a fantastic vehicle. And it's a perfect option for environmentally conscious buyers who want to be part of a shift toward efficiency. Check out the vehicle at your local Hyundai dealer near Anaheim, Cerritos, and Long Beach. The Ioniq Hybrid is available now at Norm Reeves Hyundai Superstore Cerritos. Check it out in our online showroom now, then schedule a test drive.
*The Lifetime Hybrid/Electric Battery Warranty applies to all U.S. 2017 model-year Ioniqs. The Lifetime Hybrid/Electric Battery Warranty ensures that if the lithium-ion polymer battery fails, Hyundai will replace the battery and cover recycling costs for the old battery free of charge to the original owner. The Lifetime Hybrid/Electric Battery Warranty excludes coverage for vehicles placed in commercial use (e.g., taxi, route delivery, rental, etc.).