In the Cerritos, CA, area, donuts aren't just a breakfast food. They're dessert, lunch, dinner, and breakfast all rolled into one glorious fried work of art. And that also means that some of the best donuts near Cerritos can be found just a few minutes from home.
Check out this list of the top five donut joints near Cerritos, and stop in to try your new favorite donut.
Birdies
Serving signature donuts from King Arthur flour, Birdies offers donuts that are all made with locally sourced ingredients. They also have a full menu of delicious casual dining options, including the Birdies Original chicken sandwich, which is totally yummy. Their artisanal donuts are made hourly, so you're always getting a fresh treat here.
Donut Miss This Treat
Candied Bacon Maple: This delicious confection is a breakfast delight. Topped with crispy bacon and a delicious maple-flavored icing, this donut is perfect for those with a sweet tooth who love a savory surprise.
LINK: http://birdiesla.com.
California Donuts
For more than 30 years, California Donuts has been serving some seriously delicious confections. Family-owned and -operated, this donut shop near Cerritos offers a family feel, fun and inventive donuts that are decidedly cute, and the ability to get a fresh and delicious donut 24 hours a day.
Donut Miss This Treat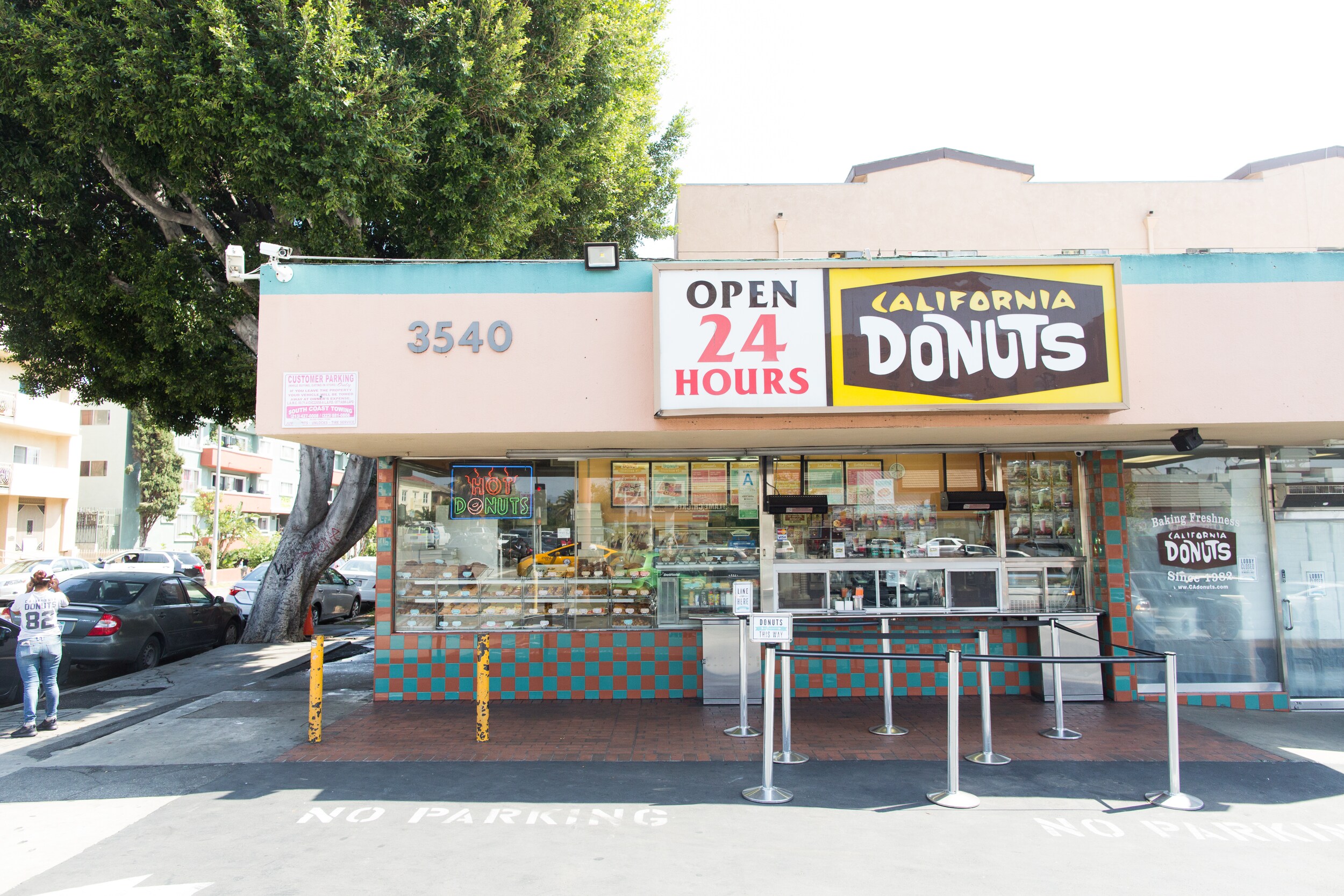 Blueberry Toast Crunch: A classic donut is topped with purple blueberry-flavored icing and cinnamon toast crunch cereal, providing an excellent excuse to skip breakfast and eat this delicious treat.
LINK: http://www.cadonuts.com/.
Donut Friend
Vegans can eat literally anything on the menu at Donut Friend, a local donut shop that offers delicious donuts that are named after bands, political events, and pop culture icons. Stuffed, covered, and fried to perfection, these donuts are a delicious twist on a classic donut. They're also customizable, so you can go all out.
Donut Miss This Treat
Banana Kill: A deliciously traditional donut is stuffed full of peanut butter, honey, and bananas. Topped off with powdered sugar, it's a perfectly delicious donut for any time of day.
LINK: http://donutfriend.com/wp3/.
Downtown Donuts
Inspired by the donuts that made Los Angeles famous around the world, Downtown Donuts specializes in creating a good classic donut that'll keep you coming back time and again. Located in the historic area of downtown LA, this donut shop offers delicious and delightfully huge donuts for your enjoyment.
Donut Miss This Treat
Old Fashioned: This classic donut features a cake-like texture and a delicious glaze that makes it the perfect choice for a midday treat.
LINK: http://www.downtowndonutsla.com/.
Fantastic Donuts
Adorable cartoon-like donut creations are what you'll find at Fantastic Donuts. This local donut shop, located in Korea Town, offers custom creations, in addition to their classic donuts. The shop is open 24/7 for classic donuts, coffee, and ice cream, which makes it a great place to fulfill that 2:00 AM craving for something sweet.
Donut Miss This Treat
Blueberry Kitty: This blueberry cake donut is in an absolutely adorable little kitty shape. So, if you can't get your special someone a little kitten for their birthday, maybe you can bring them a delicious little kitty donut.