There's something almost sinful about biting into a fresh pastry. Is it good for you? Not really. Does it comply with the diet? Not at all. But is it delicious? You bet it is. And sometimes, you've just got to treat yourself.
When you've got a sweet tooth craving that just won't quit, these three Long Beach area bakeries have got your back.
Babette Bakery is the epitome of the Mom & Pop shop. Since it opened in 1992, it has (quite literally) been run by Mama Babette and her husband Christian.
What's special about this bakery's reputation is that it's centered entirely around word of mouth. After years of supplying other local businesses such as coffee shops and hotels with their delicious sweets, other Long Beach residents have caught on. Truly, their breads and pastries can't be beat.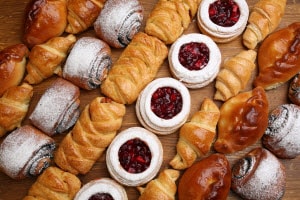 Pietris Bakery, as we know it today in Long Beach, is a long way from where it started in Solomos, Corinthia, Greece back in 1930. Nevertheless, the quality and artistry of its baked goods have not changed one bit.
When you want traditional Greek desserts, such as fresh Baklava with gelato or Tsoureki with pastry crème, nowhere else in Long Beach seems to do it quite like Pietris.
As we celebrate the many special occasions in our lives, they all seem to have one thing in common: cake. Because, let's be honest, what could make a sweet day even sweeter?
Scratch Bakedgoods is well-known for their heirloom cakes. The everyday menu of this American patisserie offers up five delicious flavors. However, you can always order a customer cake for your special day.
Here Comes the Sugar Rush
Cakes, brownies, and breads—oh, my! You must be salivating just thinking of all the sweet concoctions these bakeries have sitting behind the counter. Fortunately, they're just a stone's throw a way. Visit today to satisfy your sweet tooth!