Go from the beach to Hollywood and back in the 2017 Hyundai Ioniq Hybrid. Whether you are in Cerritos, Long Beach, or Anaheim, check out why this hybrid car is perfect for all of your LA adventures.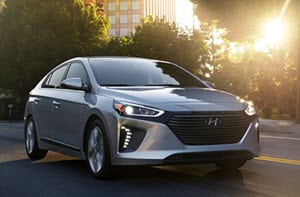 Our team at Norm Reeves Hyundai Superstore Cerritos has gathered all the details in this review of the new Hyundai Ioniq Hybrid. Get the inside scoop on why LA drivers are loving this sweet ride, inside and out.
Pile in the Crew and Gear for Your LA Road Trips
LA days mean frequent beach trips or outdoor adventures, and with the 2017 Hyundai Ioniq Hybrid, you won't have to take two cars. With space for five, you'll find your long rides comfortable and enjoyable while you take in the California views.
Packing in everyone's stuff won't be a jam, either. With 26.5 cubic feet of space behind the rear seats, you'll fit all of your gear for hiking, swimming, fishing—you name it!
The Ioniq's infotainment system is perfect to entertain the kids while navigating to your next family day destination. The easy-to-use, seven-inch touchscreen can access all your smartphone apps via standard Apple CarPlay™ or Android Auto™.
Cruise from the Highway to the Hollywood Hills
What sounds better than a car with outstanding fuel efficiency yet a sporty, smooth ride? The 2017 Hyundai Ioniq Hybrid will take you virtually everywhere quickly and easily without emptying your wallet.
The Ioniq is equipped with a 1.6L four-cylinder engine that produces 139 horsepower. At an EPA-estimated 55/54 MPG city/highway, LA traffic will look a little better without eating up your fuel.
The Ioniq also offers Eco and Sport modes, so you can choose your cruise depending on your destination. Drive along the coast a little faster in Sport mode, or switch to Eco mode to conserve gas while chilling in highway traffic.
Safety Features in the Ioniq Hybrid
Of course, our main concern is always staying safe in our vehicles. Fortunately, the 2017 Ioniq Hybrid has many available safety features that will keep you worry-free for your family's protection while on the road.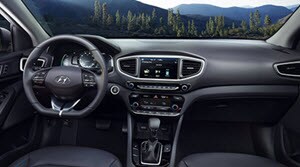 Available features include Blind Spot Detection, Rear Cross Traffic Alert, Rear Parking Sensors, Lane Change Assist, and Adaptive Cruise Control. With assisting features such as these, your rides have never kept your mind so at ease.
Come Check Out LA's Coolest New Ride Today!
With the 2017 Hyundai Ioniq Hybrid's awesome interior technology, outstanding MPG ratings, and safety features to keep you and your passengers protected on the road, you won't be disappointed in giving this new car a test drive.
Stop down to Norm Reeves Hyundai Superstore Cerritos today! We proudly serve drivers in Cerritos, Long Beach, and Anaheim, and would love to answer any questions you have about the Hyundai Ioniq Hybrid. Simply fill out our online contact form, and one of our team members will be in touch via your preferred contact method.
We look forward to meeting with you!