Hyundai vehicles are known for being very reliable with lots of features. One such high-tech amenity is BlueLink®. But what is it and how would it benefit your drives around Cerritos, Long Beach, Anaheim, and Downey?
To help answer these questions, our team at Norm Reeves Hyundai Superstore Cerritos will go over all you need to know about BlueLink®. Read about this useful feature below and don't hesitate to contact us if you have any questions.
What's Hyundai BlueLink®?
Hyundai BlueLink® is a connected car service that lets you access many vehicle features right from your smartphone. It's available in most Hyundai models as a 3-year trial and comes with lots of benefits to make your daily commutes easier and more convenient.
BlueLink® Features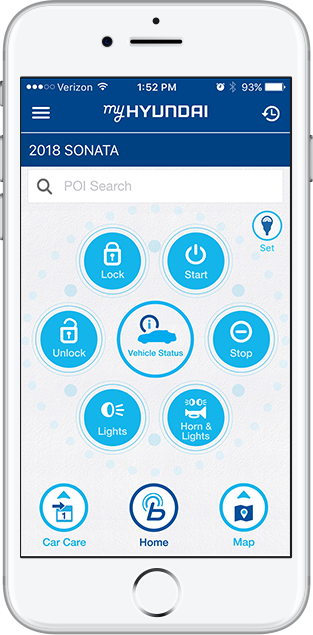 BlueLink® will let you start your car, schedule maintenance, and more from your phone. Below are just a few of the many features that this app offers:
Remote Door Lock & Unlock
Enter a 4-digit PIN on the app and the car will unlock or lock from wherever you are. And if you unlock your doors but don't open them, BlueLink® will automatically relock the doors after 30 seconds.
Remote Start with Climate Control
You can start the engine and even warm up or cool down the cabin to get it as comfortable as you'd like. The engine will run for up to 10 minutes. Or you can manually set that to less if you'd like. With this feature, the car will be ready to go when you are.
On-Demand Diagnostics & Alerts
You can run a full vehicle diagnostic check directly from the app. And if an issue is found, simply press the Service Link button and the details will automatically be sent to our dealership. You'll also get emails with monthly reports and reminders when it's time for auto maintenance.
Destination Search Powered by Google™
If your Hyundai is equipped with navigation, then you can use BlueLink® to search for a destination. It'll then sync with the navigation system, so the route is ready to go when you are. You can also save a destination for quick access in the future.
Geofence, Curfew & Speed Alert
This feature is especially useful for parents of teen drivers. You can help keep your child safe with custom pre-set notifications. For example, you can set a curfew to prevent late-night driving. If the vehicle is used outside the predetermined time, you'll be alerted with an email, text, or phone message. You can also be alerted if your teen exceeds a previously set speed limit.
Learn More at Our Hyundai Dealership
Above are just some features available with the Hyundai BlueLink® app. To learn more, contact us at Norm Reeves Hyundai Superstore Cerritos. Our friendly and helpful staff members will be more than willing to go over all the benefits of this useful tech feature.
We're proud to help drivers throughout Cerritos, Long Beach, Anaheim, and Downey learn about the latest Hyundai technologies, and we look forward to doing the same for you.