When it comes to taking care of your vehicle, there are few services more important than your brake services. Whether you're coming in for a preventative maintenance appointment or it's time for your regular brake service, the team at Norm Reeves Hyundai Superstore at Cerritos Auto Square is here to help you make it through. 
Don't let your brake services be a source of stress! Read up on some of our most common brake services below, then schedule your service appointment online in minutes.
Brake Inspection Service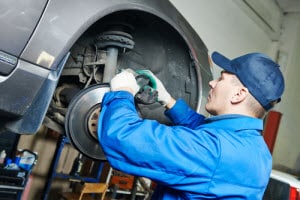 If you're experiencing any trouble with your brakes at all, be it a strange sound, feeling or smell, you need to have your brakes inspected. During this service, our team will take a closer look at what might be troubling you. 
We'll test out the brakes, take a look at the equipment, and then we'll be able to give you a solid diagnosis of the problem. From there, you can decide on how you'd like to proceed based on the expert recommendations by our service team.
Brake Repair Service
If you're experiencing squeaking brakes, squealing brakes, steering wheel vibration when braking, vehicle veering when braking or any change to the brake pedal, your vehicle is likely in need of a brake repair service. This appointment will include a brake inspection, then we'll take care of the problem. 
A brake repair service usually includes a brake pad replacement. It can also include a rotor replacement, brake line replacement, brake fluid flush, or a wheel alignment. These services will be discussed with you in detail so you fully understand what's being done to the vehicle prior to the service.
Keep Reading About Brake Repair Services
At Norm Reeves Hyundai Superstore at Cerritos Auto Square, we believe that the best customers are the ones who are most informed and educated about their vehicles. That's why we go out of our way to provide educational and useful information about your vehicle's brakes. If you're experiencing a brake problem, check out the pages below to see what the best course of treatment might be for your vehicle. 
When you're finished, schedule a service appointment using our online portal and get back on the road today!