Welcome to our Hyundai dashboard light guide library. These free guides are provided to you in the hopes that our Los Angeles, Long Beach, and Downey area customers can learn how to properly maintain and care for their Hyundai vehicles. If you have questions or would like more information, contact us at Norm Reeves Hyundai Superstore in Cerritos.
About Dashboard Lights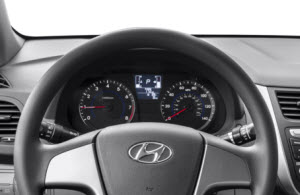 The warning and indicator lights on your dashboard are designed to alert the driver to possible issues or important vehicle information. It's normal for these lights to turn on briefly when you first start the engine as a routine test to ensure they're functioning properly. However, if a light doesn't turn off or comes on while you're driving, there may be a problem.
The lights on your dashboard come in a variety of colors to can help you determine what the light may be indicating. Red and amber indicator lights are frequently used to represent malfunctions or warnings. Meanwhile, green and blue indicator lights are generally used for system status and vehicle information.
How to Use These Guides
Seeing an unfamiliar light on your dashboard can be concerning, especially when you consider that some lights indicate a serious malfunction. To help you locate the information you need quickly, these light guides have been optimized for easy skimming.
Each guide begins with a short introduction of the Hyundai dashboard lights and what to expect in your particular model. Then a collection of indicator lights are listed along with useful descriptions and an explanation of what the indicator could be telling you. If the light you're seeing on the dashboard isn't mentioned in the guide for your vehicle, contact our service department for more information.
Don't See the Light Guide You're Looking For?
At Norm Reeves Hyundai Superstore in Cerritos, we're constantly updating our dashboard light guide library. However, in the event that the guide for your vehicle isn't listed, we recommend that you pull over in a safe place and contact our service department. Our skilled automotive experts will be able to tell you what the light means and if any service is required.
If you'd like more information about Hyundai dashboard lights and you're in the Los Angeles, Long Beach, or Downey area, contact us at the Norm Reeves Hyundai Superstore in Cerritos or schedule your service online.
Hyundai Vehicle Dashboard Light Guides:
Hyundai Accent Dashboard Light Guide
Hyundai Elantra Dashboard Light Guide
Hyundai Equus Dashboard Light Guide
Hyundai Genesis Dashboard Light Guide
Hyundai Sonata Dashboard Light Guide