Are you thinking about buying a Hyundai vehicle near Anaheim? Get ready for the barrage of questions you'll be asked at every step. From the beginning, you'll need to know how much you can afford to spend on your next vehicle, how large and how powerful of a vehicle you need, and how you're planning to finance your purchase. How do you make all these decisions? We're here to help.
Top Tips for Car Shopping near Anaheim
Shopping for your next vehicle should be an exciting adventure without all the stress. Let us help you through the process by providing a couple of our most helpful car buying tips for buyers near Anaheim. 
Tip #1: Do Your Own Research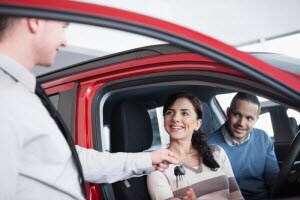 Whenever you step into a situation where you're looking to invest in something, you want to be in a position of power. The best way to do that is to know where you stand. Do your own research before you head to the dealership. Know how much the car you're looking at is worth in the local market and what a fair price is for the vehicle's condition. 
Tip #2: Know Your Budget 
Another major tip is to go into the deal of buying your next vehicle knowing exactly what you can afford to spend. Don't be tempted by luxurious add-on features at your local used car dealership near Anaheim. Stick to the budget you set for yourself so you can be confident month after month that you can pay all your bills in full and on time. 
Tip #3: Go Where the Options Are 
Just because you're in the potential buying position, doesn't mean you have much time to spend on your car search. After you do your research, go to the source that has the most high-quality vehicles in their inventory. A car dealership will have the inventory, customer service, and financial services you need to get the job done quickly so you can get back to your life faster.
Local Hyundai Dealer near Anaheim
Norm Reeves Hyundai Superstore at Cerritos Auto Square is a full-service Hyundai dealer in your area. We offer a friendly team of sales professionals, a qualified and kind finance team, and a huge inventory of vehicles for you to choose from. Check out our wide selection on our website now and find the new, used, or Certified Pre-Owned Hyundai vehicles you've been looking for today, right from the comfort of your home.
Schedule a Test Drive at Norm Reeves Hyundai Superstore in Cerritos
Take the next step in your journey to your new vehicle with the friendly team at Norm Reeves Hyundai Superstore at Cerritos Auto Square. Our team offers advanced experience in automotive sales, financing, and service so you get the highest-level quality of customer care possible. 
Check out the huge inventory in the online showroom of Hyundai vehicles now, then schedule a test drive of your future vehicle at your local Hyundai dealer near Anaheim.