At Norm Reeves Hyundai Superstore at Cerritos Auto Square, we believe that an informed customer is the best kind, and that's why we provide super helpful information about all of your vehicle's preventative maintenance needs. 
If you're not familiar with your vehicle's regular preventative maintenance needs, there's no time like the present to learn all about it. The most importance service on this list of "preventative maintenance" services is the oil change service.
The Hyundai Oil Change Service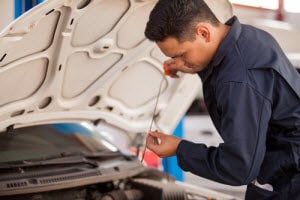 Your Hyundai vehicle is designed from the bottom up to be affordable to maintain in the long run. But that doesn't mean you'll get away with skipping out on important services. The oil change service, for example, is the most important preventative maintenance you can do to keep your engine running smoothly. 
The oil change service has many benefits, including the following:   
   
Prevents the vehicle from overheating
          
Protects the engine and motor from over wear due to excessive heat
          
Keeps the vehicle running efficiently over the life of the vehicle
          
Keeps the vehicle running quietly and smoothly by providing lubrication 
And these are just a few of the benefits of this regular service! But if you really want to know, the oil change service isn't just a preventative maintenance service, it's absolutely necessary for keeping your vehicle on the road and running smoothly.
How Often to Get an Oil Change
If you're not sure how often your vehicle needs an oil change, the fastest way to find out is to check your owner's manual. Different vehicles, types of oil and driving conditions can change the needs of your vehicle. In general, a Hyundai vehicle needs an oil change at least every 6 months or every 5-6,000 miles. This is not a catch-all. 
Some vehicles need more frequent oil changes to keep them running smoothly, and some vehicles can go even longer. If you're not sure what your vehicle needs, contact your local service center and ask them about your vehicle.
When to Schedule an Oil Change
If you've got a Hyundai vehicle that you're trying to keep running smoothly, the rule of thumb is to never go more than 6 months with conventional oil. So, if you're coming up on that timeline, go ahead and schedule a service appointment online. If it's not time yet, but you're thinking your vehicle is running a little slower and louder than usual, it might be time for an oil change. 
You can learn more about the oil change service with Norm Reeves Hyundai Superstore at Cerritos Auto Square and check out all of the useful resources we have for you below. Not sure what you're looking for? Contact our service department and let us help you find an answer.