Hyundai Dealer near Downey, CA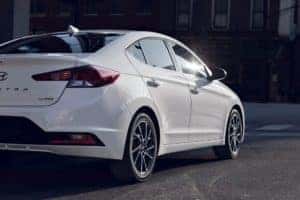 If you're in the market for a new, used, or certified pre-owned Hyundai vehicle near Downey, CA, why not consider your local Hyundai dealer? Norm Reeves Hyundai Superstore Cerritos is a one-stop-shop for all things automotive-one of the premier one-stop shops around.
Here at the dealership, our team loves the city of Downey. In fact, we'd like to tell you a little more about it. At the time of the 2010 Census, Downey had a total population of about 111,750 residents, there were approximately 35,000 households, and the median household income was around $60,000.
We'd even like to get into a bit of the city's history. Before the arrival of the Spanish Empire in North America, the area was occupied by members of the Tongva Native American group. In September 1771, the Spanish established Mission San Gabriel Arcángel to convert these indigenous Tongva populations.
By 1784, the Spanish Governor Pedro Fages had granted a 300,000-acre land concession to Manuel Nieto, a former soldier. Over the generations, this land (called Rancho Los Nietos) was passed throughout the family, until it was obtained by wealthy Anglo-Americans after the conclusion of the Mexican-American War. They officially founded Downey on October 23, 1873, and the rest is history!
Somewhere along the line, Norm Reeves Hyundai Superstore Cerritos popped up close to Downey, and that's what we really want to talk about. We hope that you keep reading to learn a lot more info.
Whether you're looking to purchase, looking to finance, or looking to service, we'll be with you at every turn. Keep on reading to learn more about the services we offer to Downey residents just like you!
Hyundai Inventory Around Downey CA
First and foremost, we're a Hyundai dealership. What does this mean? This means we carry a huge inventory of Hyundai vehicles for you to choose from in our state-of-the-art showroom. Our friendly team of sales professionals will be happy to guide you through the entire car buying process, from finding the perfect new, used, or certified pre-owned Hyundai to getting you the trim, color, and interior features that you're looking for.
Regardless of whether you want the Hyundai Elantra, Hyundai Ioniq Hybrid, Hyundai Santa Fe, Hyundai Sonata, Hyundai Tucson, Hyundai Veloster, Hyundai Accent, or any other awesome model, you can probably find it at Norm Reeves Hyundai Superstore Cerritos. That's because we carry hundreds upon hundreds of high-quality Hyundai coupes, hatchbacks, sedans, SUVs, and more. We truly have something for everybody. The only question is, are you willing to look?
You can start your car buying experience right on our website. It's available 24/7, so you can always find the information you're looking for. Want to know what vehicles we have in stock right now? Check out our online inventory! Want to learn more about our financing options? Start right away!
Financing Services When You Need Them
Filling out our secure and confidential online financing application is merely the first step to getting behind the wheel of your next Hyundai vehicle. Once you're finished with that, our team of financial specialists will look through your application, and then contact you once they're ready to begin.
We've even included a few other tools and resources that you can take advantage of whenever you'd like. They're intended to simplify the automotive financing process, making everything easy for you.
In addition to the financing application, there's a trade evaluator, so that you can determine the value of your current automobile toward your next Hyundai. There's a payment calculator, so that you can figure out exactly how much you'll owe for a monthly payment. And there's a thorough index of special offers, so that you can save even more money on an already great deal. Check them out right away.
Our financial wizards are trained to work with you and our network of local lenders to make sure that you get the financing terms that you deserve. We'll leverage our industry ties to secure manufacturer specials so that you can get the best rate possible. What are you waiting for? Let's get going today!
Downey Area Hyundai Service Center
Maintaining the value of your automotive investment starts with keeping up with regular maintenance and emergency repairs. You can do all that and more at our Hyundai Service Center by Downey.
Our guys and gals can carry out any maintenance, repairs, replacements, inspections, tune-ups, customizations, upgrades, paint jobs, etc. These expert automotive technicians are trained to take care of all your vehicle's needs, from oil changes and tire rotations to transmission repairs, engine replacements, and beyond.
Whatever the issue, they'll be here to see it through. But, here's the most important part: They'll do their job with an efficient, effective, and courteous attitude. You're probably accustomed to the rude and inappropriate behavior that you've experienced at other service centers and body shops. That won't happen here. You'll be treated with the respect that you deserve, so you'll want to come back for more.
You can even schedule a service appointment on our website. And, if you're more of a do-it-yourself kind of driver, we have a comprehensive selection of top-of-the-line Hyundai parts, all for you!
Learn More About Norm Reeves Hyundai Superstore Cerritos Today!
When you're ready to start your next automotive adventure, stop by our showroom at Norm Reeves Hyundai Superstore Cerritos. We're a full-service car dealership with a massive inventory of Hyundai vehicles, a stress-free finance department, a well-trained service center, and much, much, much more!
However, if you're too busy to stop by right now, there are two other simple ways to get in touch with us. You can call us on the phone, or you can chat with us online. Either way, we're excited to talk to you, we're excited to get to know you, and we're excited to work with you. Reach out to us now.