---
Hyundai Sonata vs Mazda6: Technology Comparison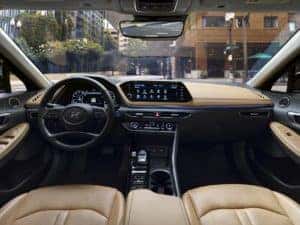 When it comes to technology in a more affordable vehicle, you want the best of the best. Well, you'll see quite a bit of the best if you're looking at the 2020 Hyundai Sonata and Mazda6.
They both offer a standard 8-inch touch screen, Bluetooth®, and HD Radio™. With Bluetooth®, you will be able to stream music and make calls without taking your hands off the steering wheel.
Although they're similar, there are still some serious differences. In addition to all the features mentioned, you'll get extra features standard in the Sonata that you won't get standard in the Mazda6.
These include Apple CarPlay® and Android Auto™, which offer you even more connection to your smartphone. You can get directions, have text messages read to you, and more personalized convenience.
Cabin & Trunk Space
Both sedans have amenities that make for a more comfortable ride for you and your passengers. The Hyundai Sonata, though, has more room for everyone to comfortably stretch out. Inside its cabin, there is 104.4 cubic feet of passenger space.
The Mazda6 has more compact seating, with 99.7 cubic feet of passenger space. In its trunk, there is 14.7 cubic feet of cargo volume, which gives you room to store items and fit your groceries. When loading up luggage or carrying bigger items, the trunk of the Sonata is more accommodating, with 16 cubic feet of cargo volume.