2020 Hyundai Sonata vs 2020 Volkswagen Passat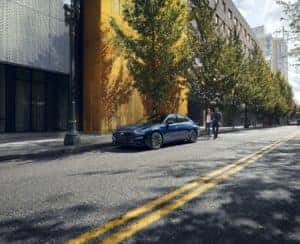 If you're gearing up to start browsing for your next sedan, you may want to hold off just a bit longer! When the time comes, you may find yourself torn between the 2020 Hyundai Sonata vs. 2020 Volkswagen Passat. Both of these upcoming vehicles are expected to offer a lot to their respective drivers, but when it's your decision, which vehicle do you choose?
At Norm Reeves Hyundai Superstore Cerritos, we're here to help drivers in Downey, Anaheim, and Garden Grove learn more by offering this 2020 Hyundai Sonata vs. 2020 VW Passat comparison. This guide can show you what each vehicle will offer and how they'll differ, so you can see which vehicle is best suited for you!
2020 Sonata vs VW Passat Engine Specs
Despite their similar size and appearance, each vehicle includes very different engines under the hood. The Hyundai Sonata will include a 2.5-liter GDI 4-cylinder engine that's expected to produce 191 horsepower. The 2020 VW Jetta will include its 2.0-liter TSI® 4-cylinder engine, which is turbocharged and intercooled. However, it tops off its output with 174 horsepower-making the Sonata a more powerful sedan.
In-Cabin Entertainment & Technology
Both sedans will include dashboard-mounted displays. The Sonata screen is eight inches, while the VW Passat screen is expected to be between 6.3- and 6.5-inches. Each sedan will include Bluetooth® connectivity for phone and streaming, USB and auxiliary connections, and standard AM/FM radios. The 2020 Sonata will include Apple CarPlay™ and Android Auto™, which provide direct smartphone integration into the touchscreen. The VW Passat includes VW Car-Net® App-Connect, which offers similar connectivity to the touchscreen display.
Driver-Assistance Technology
Since these yet-to-be released sedans offer cutting-edge features and technology, you can expect to see some driver-assistance included. The 2020 Hyundai Sonata is expected to include a variety of systems like Forward Collision-Avoidance Assist, Lane Keep Assist System, Driver Attention Warning, and Advanced Smart Cruise Control. However, the Volkswagen Passat is expected to feature a few of these systems, but not all in the sense that drivers shouldn't expect to see a smart cruise control at the base level.
Appearance & Design
When it comes to the 2020 Hyundai Sonata vs. 2020 VW Passat, style plays a part in the decision. Both vehicles offer sleek and contemporary styles, but there are a few differences with their appearances. Most notably, the Sonata offers a smoother and more modern aesthetic, with a refined grille and front fascia. The 2020 VW Passat merely resembles its predecessor without any new bells or whistles to make the 2020 a special release.
Learn Even More About the 2020 Hyundai Sonata vs 2020 VW Passat
At Norm Reeves Hyundai Superstore Cerritos, we hope that this comparison of the Sonata vs. 2020 VW Passat gave you a strong sense of what these upcoming vehicles offer and how they differ. But while you saw that the Sonata offers a bit more than the VW Passat, there's still more to learn.
Contact us at Norm Reeves Hyundai Superstore Cerritos to get updates on the 2020 Hyundai Sonata release date so you can be one of the first to take it out for a test drive! We're proud to help drivers in Downey, Anaheim, and Garden Grove learn more about upcoming vehicles, so they can find the one that's perfect for them.